Welcome To



The Original Web Site & Concept for Up-To-Date
Information on Tricky Tray Events.
Find Tricky Trays or Post a Tricky Tray......
It's All Free at TrickyTray.com!


Tricky Tray:
Pronunciation: 'tri-kE 'trA
Function: noun
Plural: tricky trays
Synonyms: penny sale, penny auction,
penny social, gift auction,
chinese auction, silent auction,
brown bag auction, basket social
dark horse, basket games
Alternative Spelling: trickytray, trickytrays
1: a fund raising event for a church, school or other organization where guests buy tickets, then place them in a container next to the item they would like to win. Items can be a single item or a group of items based on a theme. Once everyone has had the opportunity to place his or her tickets in the container, the drawing for the prizes begins. If your number matches the winning number drawn, You win that prize.
Visit Shopping At TrickyTray.com!
Help Support The Site By Making A Purchase At The Many Affiliates.
Start Shopping Here!

The Official Blog For Tricky Trays!
Click Here
And "Speak Your Mind" To The World.
It's All Here For You At

TRICKY TRAY APPAREL?
Get The Latest T-Shirts & Tops
And Wear Your Passion For Tricky Trays!
Great Gift For The Tricky Tray Lover!
It's All Right Here!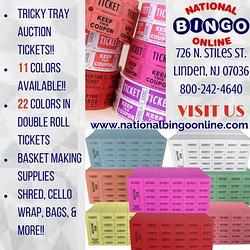 National Bingo - Bag Factory
Linden, NJ 07036
800-242-4640

home | events | post an event | links | contact us


Since Its Start Date, TrickyTray.com Has Posted Tricky Trays For The Following States:
New Jersey, NJ - New York, NY - Pennsylvania, PA - Georgia, GA - Connecticut, CT
Maryland, MD - Ohio, OH - Nevada, NV - California, CA - Florida, FL - Utah, UT - North Carolina, NC - Arizona, AZ
But Welcomes Every State In The USA!