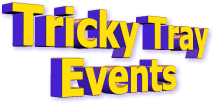 This Site Is For You - The Tricky Tray Lover!

NEVER SERVE A TOUGH PIECE OF MEAT AGAIN !

I First Heard of the Jaccard Meat Tenderizer on a video with
Emeril Lagasse 3 years ago.
This is so well designed
& easy to clean.

I Love It !
I use this on beef, chicken breasts & pork chops.
It also enhances marinades.
It will make you a Star in the Kitchen or at your BBQ !

Mr Tricky Tray Approved !


IRONBOX
28Pcs Braided Leather Bracelet for Men Women Wooden Bracelet Tree of Life Bracelet Beaded Cuff Wrap Bracelet Adjustable


Scroll Through Tricky Tray Events Below


The Official Blog For Tricky Trays!

TRICKY TRAY APPAREL
Get The Latest T-Shirts & Tops
And Wear Your Passion For Tricky Trays!
It's All Right Here!
home | events | post an event | links | contact us
© 2004-2022 All Rights Reserved
TrickyTray.com