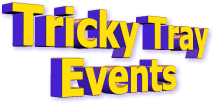 This Site Is For You - The Tricky Tray Lover!
NEVER SERVE A TOUGH PIECE OF MEAT AGAIN !

I First Heard of the Jaccard Meat Tenderizer on a video with
Emeril Lagasse 3 years ago.
This is so well designed
& easy to clean.

I Love It !

I use this on beef, chicken breasts & pork chops.
It also enhances marinades.

It will make you a Star in the Kitchen or at your BBQ !

Mr Tricky Tray Approved !

You're in luck.

Right now, Amazon is having a secret sale on a few the Dash appliances—
including everyone's favorite,

The Air Fryer !

Dash's Air Fryer usually costs $100, but Amazon is currently offering $20 off the asking price.

Clocking in at three quarts, this option has plenty of room, so you can feed the entire family in one fell swoop. This option also has eight presets so you can fry everything from seafood, to vegetables, to poultry with ease.


Scroll Through Tricky Tray Events Below










Power Play Gaming
Denville, NJ


The Official Blog For Tricky Trays!

TRICKY TRAY APPAREL
Get The Latest T-Shirts & Tops
And Wear Your Passion For Tricky Trays!
It's All Right Here!
home | events | post an event | links | contact us
© 2004-2019 All Rights Reserved
TrickyTray.com